Designed for mowing along walls and around trees, the FSA 86 R is a powerful yet quiet, professional brush cutter. It is a battery-powered STIHL professional tool that is compatible with any AP battery.
The brushcutter's loop handle allows it to be used efficiently in small spaces such as close to walls and through passageways. A spacer bracket protects the mowing head. Aluminium shafts are lightweight but sturdy enough to provide comfortable operation even over extended periods. When using the control handle, you accidentally turn on the brushcutter.
Cutting diameter of 350mm,
Ideal for larger gardens,
Compatible with all AP system batteries,
Loop handle comfortable design,
 2-year warranty (domestic use)
Built for comfort, the FSA 86 R has all the features necessary to strim for long periods.
It is extremely energy efficient and virtually maintenance-free because the FSA 86R's power comes from a brushless electric motor (EC). Because of this system, all the power generated by the inserted battery converts into optimal performance.
Despite any confined spaces, the comfortable loop handle ensures good handling and freedom of movement.
Hand tools are not necessary for changing the cutting tools. With the FSA 86 R, you can either mount the AutoCut C 6-2, the PolyCut 6-2, or the DuroCut 5-2.
Trimming and thinning work can be accomplished with double-headed mowing lines. A tapping sound on the ground triggers the mowing head to extend its lines. Fill lines quickly and easily with the easy-to-load system. The low profile of this trimmer gives you more control. Suitable for lines with a diameter of 2.0mm or 2.4mm.
The spacer bracket protects your mowing head. Additionally, it can protect plants from damage caused by the mowing head while in use.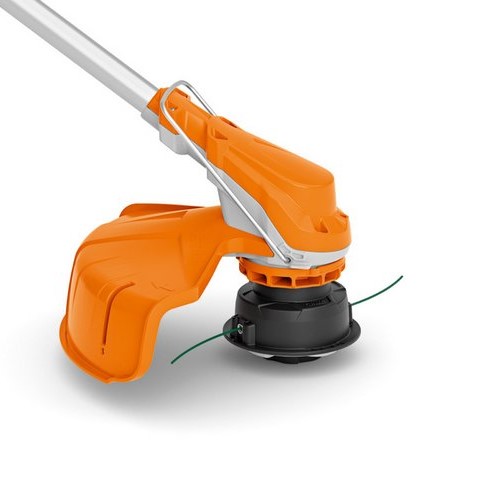 – Download PDF Manual Here (If Available)
Technical data
Value
Sound pressure level dB(A)
1)
81
Sound power level dB(A)
1)
94
Vibration value, left m/s2
2)
3.7
Vibration value, right m/s2
2)
2
Cordless technology
AP System
Rated voltage V
36
Standard cutting tool
AutoCut C 6-2
Weight kg
3.3
Total length cm
3)
172
Cutting diameter mm
350
Cutting tool
AutoCut C6-2
Run time with AP 100 min
4)
up to 15
Recommended battery
AP 200
Run time with AP 200 min
4)
up to 30
Run time with AP 300 min
4)
up to 36
Run time with AP 300 S min
5)
up to 45
1) K-factor according to DIR 2006/42/EC = 2.5 dB (A)
2) K-factor according to DIR 2006/42/EC = 2m / s ²
3) Without cutting attachment
4) Run times may vary depending on the application
5) Battery life times are approximate and may vary depending on application