The HLA 66 is the latest cordless long reach hedge trimmer from the trusted Stihl brand, replacing the immensely popular HLA 65. Well suited for the professional gardener or landscaper, this tool is perfect for safely trimming taller hedges from the ground. At under 4kg, it's lightweight and easy to use.
Battery-powered for better constant engine speed,
Unit only option – add a battery and charger above,
Can be folded for easy moving and storage,
A large 20 inch / 50cm double-sided blade,
2-year warranty as standard (Domestic Use).
Introducing the HLA 66, A brand-new and enhanced long reach hedge trimmer from Stihl.
It's finally available and at a low price! This Stihl HLA 66 has been the talk of garden enthusiasts and professionals since the previous version sold out during the Summer of 2020. Why? Because the HLA 65 was such a huge hit with its efficient cordless abilities, powerful cutting speeds and comfortable operation.
As with all things Stihl though, year on year they make improvements, even to their best selling models. The HLA66 is another one of those improved models.
What we notice with this innovative new addition to the AP series of cordless garden tools, is it's far more balanced than earlier versions. This will enable the user to operate the hedge trimmer for longer periods, which is a huge bonus for big bush cutting jobs.
What's more, vibration has been drastically reduced at the gripping points. Again, another great tiredness reducing feature to give your hands a break after a long day's graft.
Great functionality for landscapers who want full control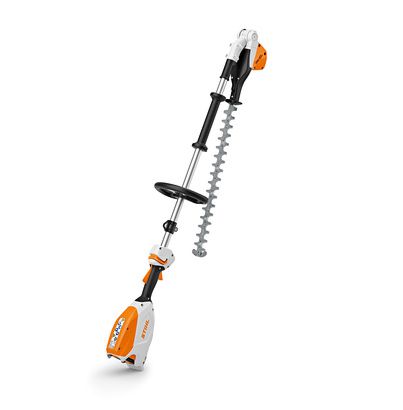 What makes this Stihl long reach head cutter a sure hit with the gardening community is it's secure, comfortable and adept performance (much like the previous model).
With the Stihl HLA 66, you will find ample length for trimming this high hedges. At 205 centimetres in length when extended, you can safely use the hedge trimmer from the ground level without the need for a ladder.
Furthermore, you'll be able to cut with ease the thickest of shrub branches. Powered by a reliable electric motor, the 20-inch double-sided blade will cut through thick growths of up to 26mm in girth.
Should you need to trim at an awkward turn, the blade's working angle can be quickly rotated from -45º to +70º, without the need for tools. This is an amazing feature for creating well-defined edges and works of hedge art from any side of the approach.
It also doesn't matter which hand you use to power the hedge trimmer, the controls are conveniently laid out for both left and right-handers. Use either hand to control the trigger speed of the cutter, and the other to guide the blade across those bushes with precision.
Built into the HLA 66 is a loop handle with an anti-slip grip. Whether you are in wet weather or sweaty heat, you will be able to precisely guide the blade without fear of losing grasp. Should the blade come into contact with the ground, a tip protector will prevent any damage to the blade's teeth.
Powered by the most sophisticated battery system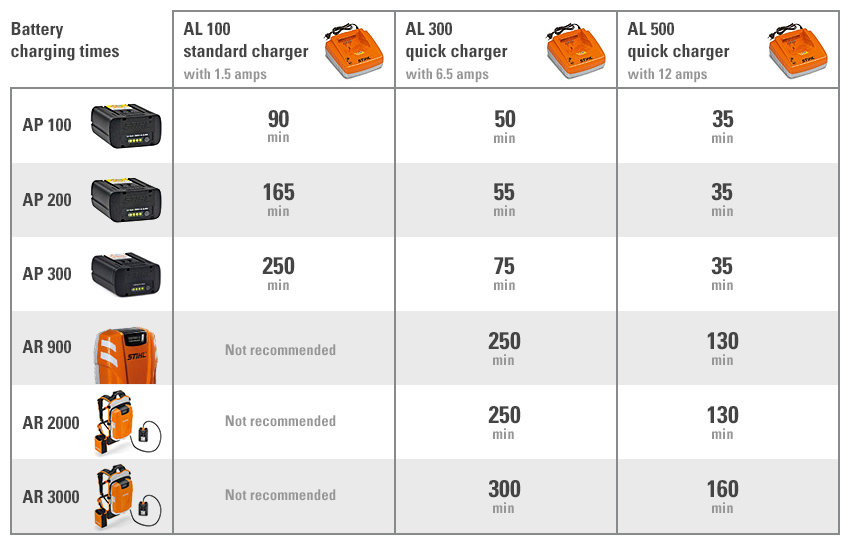 If you use Stihl's AP system products, you will already know the advantages of their batteries being able to fit multiple tools. Fortunately, this Stihl HLA 66 uses this reliable cordless system.
In tests, we used the HLA66 with the AP300 battery for 180 minutes in total before it needs to be recharged. This is the recommended combination although other batteries can be purchased.
You'll find this cordless trimmer highly energy efficient by design with the added benefit of being reliable in any weather and super quiet. Additionally, the EC motor requires no maintenance compared to petrol versions, a tremendous benefit should you not be using the tool regularly.
When you are done, stick your battery in one of Stihl's available chargers for sale, (we recommend the AL300 for faster charging), and fold down your HLA 66. Folding down to just 125cm in size means this long reach trimmer can be transported with ease and stored in even the tightest of spaces (comes with a blade guard for extra protection).
Battery run times with HLA 66:
| | |
| --- | --- |
| AP 100 | up to 72 mins |
| AP 200 | up to 144 mins |
| AP 300 | up to 180 mins |
Features We Like
Perfectly balanced
The battery in the shaft of the HLA enables balance during use and allows for fatigue-free work.
Intuitive control handle
The ergonomic operating handle has an intuitive start process and is easy to use for right and left hand users.
Double-sided cutting plate
The double-sided cutting plate is ground on both sides and ensures a clean cutting pattern.
Quick-adjustment system
The cutter bar can be adjusted from -45° to 70° and can be folded and locked parallel to the shaft for transport.
STIHL EC-Engine
The STIHL brushless electric motor (EC) is very energy efficient and practically maintenance free. Thanks to its outstanding efficiency, the battery power is directly translated into impressive performance. During operation, the electronically controlled EC motor permanently monitors the load and adjusts the engine accordingly.
Blade guard
For protection of the blade and to allow safe, easy transport this cordless long reach hedge trimmer is equipped with a blade guard.
Tip protector
Protects the tip of the hedge trimmer's cutting blade from wear and tear while working in contact with the ground.
– Download PDF Manual Here (If Available)
| Technical data | Value |
| --- | --- |
| Battery life with AP 300 S min 1) | bis 223 |
| Total length cm | 0 |
| Blade length cm | 50 |
| Recommended battery | AP 200 |
| Weight kg 2) | 3.8 |
| Sound power level dB(A) 3) | 91 |
| Vibration value, right m/s2 4) | 1.8 |
| Vibration value, left m/s2 4) | 2.3 |
| Stroke rate rpm | 3.000 |
| Tooth spacing mm | 33 |
| cutting capacity mm | 26 |
| Battery life time AP 100 min 5) | up to 72 |
| Battery life time AP 200 min 5) | up to 144 |
| Battery life time AP 300 min 5) | up to 180 |
1) Laufzeiten sind Anhaltswerte und können je nach Anwendung variieren.
2) With blade, with handle, without protection, without battery
3) K-factor according to DIR 2006/42/EC = 2.5 dB (A)
4) K-factor according to DIR 2006/42/EC = 2m / s ²
5) Battery life times are approximate and may vary depending on application